Kari Heusinkveld honored
The following article was published by Goshen College. Heusinkveld is Hillcrest Academy's girls basketball coach.
Kari Heusinkveld '12:  Champions of Character Award Winner
Kari Heusinkveld '12 has taken the leadership and passion for basketball that she developed at Goshen College to Hillcrest Academy (formerly Iowa Mennonite School) in Kalona, Iowa, where she has served as the head girls basketball coach since the 2015 season.
"Deep down I think I always knew I would end up coaching at some point," Heusinkveld said. "Even at a young age, many of my coaches made comments about me getting into it, so when my playing days were over it just made sense."
After graduating from Bethany Christian Schools in Goshen, Heusinkveld started her collegiate career at Hesston (Kan.) College, before returning home to Goshen for her final two years.
"I wanted to be some place I felt comfortable, a place that would help me grow in my faith, challenge me academically and allow me to continue my athletic career," said Heusinkveld on her decision to pursue her bachelor's degree from Goshen College.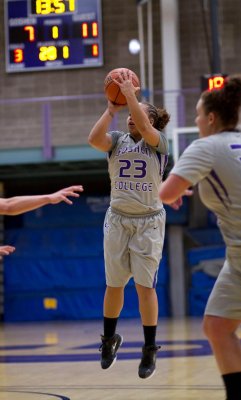 After transferring to Goshen, the point guard wasted no time making her mark on the Maple Leaf basketball program. Heusinkveld started 14 times and appeared in 28 games during her first season at GC in 2010-11, averaging 3.6 points and 2.2 rebounds per game. In her senior season, Heusinkveld served as team captain, the first under current head coach Stephanie Miller, and was also named team MVP. She started in 29 games, averaging 7.6 points and 4.3 rebounds each game.
Heusinkveld has taken the leadership and skills she demonstrated in her time as a player into her role as coach. In March 2019, Heusinkveld was a recipient of the E. Wayne Cooley "You Can" Award by the Iowa Girls Coaches Association for her work in rebuilding the girl's basketball program at Hillcrest Academy. This award is meant to recognize coaches who are early in their coaching career and are building up a varsity program. Heusinkveld was one of just three coaches in Iowa given the award for girl's basketball.
In her first two seasons at Hillcrest Academy, Heusinkveld's team went 1-37. Then, in the 2017-2018 season, they finished with five wins, including two playoff victories. In the 2018-2019 season, the team went 10-11, including one playoff win.
Heusinkveld's coaching philosophy is one of encouragement. "My goal is to provide a positive athletic experience for each of my athletes and I believe that that first starts with creating a safe, controlled environment that is conducive to learning," she said. "I believe in the importance of setting standards and holding each member of the program accountable to those standards. This creates a baseline understanding for everyone involved. In this way we also emphasize the importance of discipline, responsibility and accountability to both yourself and others. We can always control our attitude and our work ethic, and by controlling these two things, much can be accomplished."
Hillcrest Academy Principal Dwight Gingerich said that Heusinkveld cares for the athletes and has given the team a belief that they can win any game.
"Kari does a great job of building a sense of team and positive culture within the basketball program," Gingerich said in an article published by the Kalona News. "…Kari's enthusiasm is contagious. She instills confidence and she demonstrates care for each player."
Heusinkveld wears a number of hats, and "wouldn't have it any other way." In addition to her role as head girl's basketball coach, she is also the business manager at Miller Hybrids, Inc. and the general manager for an online platform called OnlineSeedSales, Inc.
"I feel like GC taught me perseverance in the face of challenges and that's something I will forever be grateful for," she said. "Whether it was in the classroom or on the court, I was constantly pushed and encouraged to give more, do more, be more. Balancing the demands of athletics with being a science major was tough, but it helped prepare me for balancing multiple avenues in my professional career."
On the court, Heusinkveld seeks to continue to grow both as a coach and mentor. "My favorite part about coaching is the relationships I get to build with my kids and the opportunity that creates to have positive impact on their lives," she said. "I obviously love the game of basketball and the goal is to help my kids grow in the sport each season, but the bigger goal is to help them grow as people."
By Siana Emery '20 (Goshen College)